Our little mascot booklet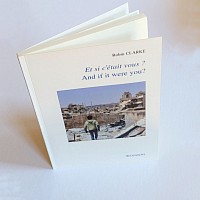 And if it were you ?

This little book, presented in both English and French, tells the true story of a Syrian family very well known to many of us at LSR. It is a very moving and real account of their journey from their destroyed home in Homs in Syria to a new life in southern France. The reader is put in the position of facing the dramatic decisions that this family confronted as they made their perilous journey in search of safety, freedom and a future for their children. It is not the worst refugee story you will ever read but it is nonetheless filled with drama, danger and trauma for the whole family. Our hope is that this little book will help to put a human face on refugees for many people who have not had the good fortune to know them as we have.
 The book was written by LSR member Robin Clarke based on extensive interviews with the family. It has been published by Editions Domens Pézenas. It is being promoted by the publisher to bookshops throughout France and on-line at www.domens.fr. To find the book On Domens website, go to "Catalogue" and then to "témoignages" ( click here)

LSR also has the right to sell the book through its own networks.
Priced at €10.00 plus €2.00 for shipping within France (€3.00 elsewhere), copies can be ordered directly from LSR at info@languedocsolidarite.com.
Please consider purchasing at least one copy for yourself and more for family and friends with whom you would like to share the experience. Payments can be made by clicking on the "Donate" tab on the menu or directly through Paypal at info@languedocsolidarite.com